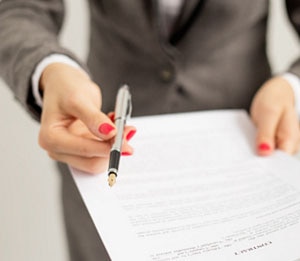 Temporary and contact jobs for accountants remain at a steady level with the duration of hires varying from a couple of weeks up to 9-12 month contracts.
Within industry, the larger PLCs, FMCG and manufacturing organisations etc are hiring contractors that can add value with their expertise to the business. This is most notable across commercial accounting and analytical roles.
There has also been an increase across the SME sector most notably with the hiring of part-qualified to newly qualified accountants on a temporary basis.
So what impact does this have for temporary and contract salaries for accountants?
A qualified management accountant on contract in Dublin can expect to earn between €25.64 – 33.30 per hour, while a management accountant on contract outside Dublin can expect to earn slightly less, as is usual for roles outside Dublin, €23.08 – 28.20 per hour.
Taking a quick look at temporary and contract salaries for part qualified accountants,  contract salaries for accounts payable jobs in Dublin come in at €14.35 – 17.94, while outside Dublin salaries for accounts payable positions are between €12.31 – 16.41 per hour.
Temporary and Contract salaries for Qualified Accountants
| | | | | |
| --- | --- | --- | --- | --- |
| Job title | Dublin € p/a | Dublin € p/h | Regional € p/a | Regional € p/h |
| Financial Controller | 80,000 -120,000 | 41.00 – 61.50 | 70,000 – 90,000 | 35.90 – 46.15 |
| Finance Manager | 70,000 – 90,000 | 35.90 – 46.15 | 60,000 – 80,000 | 30.77 – 41.00 |
| Internal Audit Manager | 70,000 – 90,000 | 35.90 – 46.15 | 60,000 – 80,000 | 30.77 – 41.00 |
| Project Accountant | 65,000 – 90,000 | 33.30 – 46.15 | 50,000 – 70,000 | 25.64 – 35.90 |
| Systems Accountant | 65,000 – 90,000 | 33.30 – 46.15 | 50,000 – 70,000 | 25.64 – 35.90 |
| Financial Analyst | 50,000 – 70,000 | 25.64 -35.90 | 42,000 – 50,000 | 21.54 – 25.64 |
| Financial Accountant | 50,000 – 65,000 | 25.64 – 33.30 | 40,000 – 50,000 | 20.51 – 25.64 |
| Management Accountant | 50,000 – 65,000 | 25.64 – 33.30 | 45,000 – 55,000 | 23.08 – 28.20 |
| Internal Auditor | 45,000 – 65,000 | 23.07 – 33.30 | 40,000 – 50,000 | 20.51 – 25.64 |
| Newly Qualified Accountant | 48,000 – 52,000 | 24.60 – 26.60 | 38,000 – 48,000 | 19.49 – 24.62 |
| Credit Control Manager | 45,000 – 65,000 | 23.07 – 33.30 | 45,000 – 55,000 | 23.07 – 28.20 |
| Payroll Manager | 45,000 – 65,000 | 23.07 – 33.30 | 45,000 – 65,000 | 23.07 – 33.33 |
| Accounts Payable Manager | 45,000 – 65,000 | 23.07 – 33.30 | 45,000 – 65,000 | 23.07 – 33.33 |

Temporary and Contract salaries for Part Qualified Accountants
| | | | | |
| --- | --- | --- | --- | --- |
| Job title | Dublin € p/a | Dublin € p/h | Regional € p/a | Regional € p/h |
| Finalist | 40,000 – 45,000 | 20.50 – 23.07 | 28,000 – 40,000 | 14.36 – 20.50 |
| Part-Qualified Accountant | 35,000 – 42,000 | 17.94 – 21.54 | 22,000 – 28,000 | 11.28 – 14.36 |
| Book-keeper | 35,000 – 45,000 | 17.94 – 23.07 | 28,000 – 35,000 | 14.36 – 17.95 |
| Assistant Accountant | 35,000 – 42,000 | 17.94 – 21.54 | 30,000 – 35,000 | 15.38 – 17.95 |
| Credit Controller | 30,000 – 40,000 | 15.38 – 20.50 | 29,000 – 34,000 | 14.87 – 17.43 |
| Payroll Administrator | 35,000 – 40,000 | 17.94 – 20.50 | 32,000 – 40,000 | 16.41 – 20.41 |
| Accounts Assistant | 30,000 – 35,000 | 15.38 – 17.94 | 23,000 – 30,000 | 11.79 – 15.38 |
| Accounts Payable | 28,000 – 35,000 | 14.35 – 17.94 | 24,000 – 32,000 | 12.31 – 16.41 |
| Accounts Receivable | 28,000 – 35,000 | 14.35 – 17.94 | 24,000 – 32,000 | 12.31 – 16.41 |