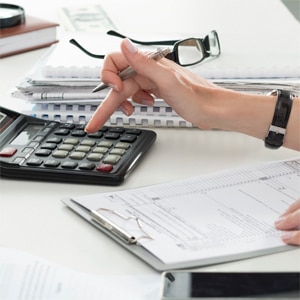 Job Description
Firms of all size, whether they are giant corporations, small businesses or 'one man bands', require good tax advice in order to comply with regulations and perhaps save some money. As a tax accountant, your role is to ensure your clients understand the complicated world of tax and help them pay the correct amount.
If you believe that tax shouldn't be taxing and want to help steer businesses in the right direction and you are interested in Tax Accountant job role, keep reading this detailed Tax Accountant job description to see if this career is a good option for you.
View and apply for Tax Accountant Jobs | View more Accountancy Job Descriptions
What Will I Be Doing?
You can decide to get involved in tax compliance or tax planning. Compliance simply means you prepare and submit tax forms on behalf of your client. Planning involves providing advice to clients to help them reduce their tax obligation. Here are some typical duties:
Performing detailed research to understand tax law and keep up with the latest changes in legislation.
Liaising with clients to get information and help explain their options.
Communicating with the Office of the Revenue Commissioners on behalf of your clients.
Analysing and completing tax forms.
Performing an audit on the tax records of your clients.
Advising clients on how to reduce their tax liability.
Producing presentations and reports for clients.
Is There Anything Else?
Unlike the UK which begins its tax year on 6 April, Ireland's tax year starts on 1 January. While you will work a typical 37-40 hour week for most of the year, you will be busier towards the end of the tax year so December is likely to be a busy month. 31 October is also a key date in the calendar as it sees the return of Capital Gains for the previous year, return of income for the previous year, Preliminary Tax for the current year and the payment of balance for last year's liability.
Depending on your firm, you may benefit from 'flexi-working' which lets you fit your working day around client meetings. The role is office based but you will spend a lot of time in meetings with clients.
Tax Accountant Career Path
Although you can forge a career as a tax accountant with any degree qualification, your chances of progression increase if you have a degree in a discipline such as Accounting, Business, Law or Finance.
You can then decide to pursue a Chartered Tax Consultant qualification from the Chartered Accountants Ireland or the AITI Chartered Tax Advisor qualification with the Irish Tax Institute. The latter has been the industry standard for more than 30 years while the Chartered Tax Consultant qualification was only launched a few years ago.
CIMA members receive exemptions from certain exams with the AITI qualification and you can find out more about both options by clicking on the links above.
Once you have one of the above qualifications, you can stay with your existing firm and try to rise through the ranks, change practice, change industry or even move overseas. Yet another option is to find work with a Government body.
Tax Accountant Salary
A tax accountant in a large firm of over 500 employees can expect to earn €55,000-€65,000 per annum which will increase to €65,000-€75,000 with 5+ years' experience. If you work in a medium sized business with 100+ employees, you can take around €5,000 a year off the above figures.
What Are The Good Points?
It is an extremely reliable job as there is high demand for qualified tax accountants. The starting salary package is reasonable but it increases rapidly as you gain more experience. There are a number of promotion opportunities so if you're prepared to put in the work, the rewards are huge.
You'll only need to work extra hours at specific times of the year so you can plan ahead to achieve a good work-life balance.
What Are The Bad Points?
You will be under pressure to ensure your clients are tax compliant. The work gets very stressful during the busiest periods of the year so be prepared for long hours and tight deadlines.
Is a Tax Accountant Role Right For Me?
In order to become a successful tax accountant, you'll need to display the following traits:
Excellent numerical skills.
High quality problem solving skills.
Good interpersonal and communication skills.
A genuine interest in the worlds of business and finance.
Work well to deadlines and can function to a high level under pressure.
Meticulous and detail orientated.
If you liked the information provided in this Tax Accountant job description from the duties to salary to progression opportunities, then a career as Tax Accountant might be right for you.