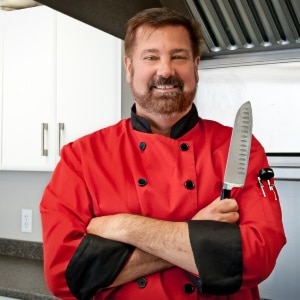 Job description
A sous chef is a culinary chef ranked just below the head chef in a kitchen's hierarchy. As a result, it is an extremely important job and one which could lead successful candidates towards a career as a head chef.
A sous chef has a lot of responsibility and can work in the kitchen of a restaurant, hotel, casino and even a cruise ship so there is no shortage of employment opportunities.
As a sous chef you will report directly to the head chef and delegate tasks to other members of the kitchen staff.
View and apply for Sous Chef Jobs
What Will I Be Doing?
You will be responsible for both planning and directing the preparation of food in the kitchen. This includes supervising other staff and indeed, supervisory duties may make up the bulk of your work. If you spot any problems, you must report them to the head chef immediately or solve them yourself. It is also your responsibility to create incentives to improve performance and discipline employees that fall short of the kitchen's exacting standards. Here is a quick overview of your duties as sous chef:
Being in charge of the kitchen when the head chef is not around.
Ensuring high culinary standards are met.
Keeping the kitchen environment safe and hygienic.
Assisting the head chef when it comes to writing menus and creating new recipes.
Being in charge of the purchasing and storage of food.
Remember, the head chef may not be around that often which means you will be the head of the kitchen in his/her absence. This places a lot of responsibility on your shoulders so you need to become familiar with kitchen operations quickly.
What Else Do I Need To Know?
Although you will also have to create delicious meals for your employer's patrons, a lot of your time will be spent on administrative duties so you need to have an eye for detail and be a meticulous planner. Depending on who the head chef is, you may also be responsible for staff scheduling and could even play a role in apprenticeship development schemes.
You can forget about working 'normal' hours as you will be working shifts which means weekends, evenings and holidays. You will also be asked to work overtime during particularly busy spells. If you would prefer to work office hours, look for a job in contract catering.
Sous Chef Career Path
The rise to sous chef does not happen in a straight line and there are a number of steps you must take to progress up the career ladder. Some people actually begin as a kitchen porter and discover a love for food before beginning at the bottom rung of the chef ladder. Here are some of the job roles relevant to sous chef job description.
Chef de Partie: This position is also called 'line cook' and involves overseeing a certain section of the kitchen and preparation for a single type of food. For instance, you may oversee the pastry section of the kitchen or be responsible for cooking the fish. Once you become a specialist in one area, you move on to the next until you have received training in all parts of the kitchen – show chef de partie jobs
Head Chef: Also known as an executive chef, this is where you go AFTER excelling in the sous chef role. You will be in charge of the entire kitchen which means you hire staff, set the kitchen roster, set the budget and plan the menus. The head chef is responsible for setting the tone of the whole restaurant and must stamp his/her personality on the menu. This is an extremely high pressure position because it is your skills, both in terms of cooking and planning, which decide whether or not your restaurant is a success. This is why high quality head chefs are worth their weight in gold – show head chef jobs
Commis Chef: This is almost an apprentice role and you will be doing a lot of preparatory work such as sharpening knives, chopping vegetables, supplying chefs with measuring cups and cleaning food surfaces. You will work with other chefs to learn food preparation basics and you will also make sure orders are properly completed – show junior chef jobs
Sous Chef Salary
There appears to be a shortage of high quality chefs in Ireland so if you fall into that category, you should definitely negotiate with potential employers. It is one of those industries where qualified candidates can dictate the price as opposed to accepting whatever offer is proposed. According to PayScale, the median average salary for a sous chef in Ireland is €23,000-€35,000 with the average figure set at €29,000.
As a means of making job offers more attractive, organisations such as hotels and restaurants are including lots of benefits as part of any salary package including parking (a major benefit if the job is in a city), supplying and laundering of uniforms and an agreeable kitchen roster. Those who make it all the way to head chef status can command €55,000+; this often rises to over €70,000 a year in Dublin.
What Are The Good Points?
You will be second-in-command to the head chef in your kitchen which means you should have the respect of your colleagues. As you have the ear of the head chef, it is a great opportunity to come up with your own creative recipes and really spread your wings. Being a sous chef means you are already well on the way to forging a successful career and there are a number of opportunities for advancement. Perform your role well and once you have enough experience, you can get a reference from your boss when it comes to applying for the top job.
What Are The Bad Points?
You will be working in an extremely high pressure environment and the hours can be long and hard. It is a stressful job; this is especially the case when the head chef is away and you are in sole charge of the kitchen. If customers complain about the food coming from the kitchen during that time, you are the one that gets the blame.
What Education Do I Need?
A large proportion of sous chefs get to where they are by training on the job and availing of opportunities for placements in high quality kitchens. However, you can get to the top a lot faster if you have some formal qualifications. A degree in Culinary Arts is a good qualification while you may also look for a FETAC certificate in Professional Cookery to help you get ahead.
If you want to become a senior sous chef, you will need at least 3 years professional experience in a good quality hotel or restaurant. Another requirement for most employers is HAACP training and experience.
Is It The Right Job For Me?
There is a lot of administrative work so if you don't like delegating tasks or paperwork, this is not the right role for you. Obviously, you don't have much of a future as a sous chef if your cooking skills are below par but the real test is having the ability to handle pressure and motivate those around you. If you wish to become a head chef, you must first become a sous chef as it is an excellent way to determine if you are ready to run your own kitchen.