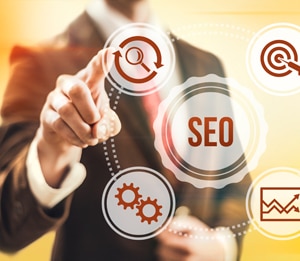 Job Description
The role of a Search Engine Optimisation (SEO) Executive has changed dramatically since the early days of the Internet. In simple terms, your role is to improve the websites of your clients to increase the number of visitors it receives (traffic).
At one time, the list of responsibilities was relatively small and focused on things such as basic keyword research, on-page keyword targeting, link building, limiting duplicate content and being listed in directories. While you could still be performing some of these tasks, the role has become significantly more advanced. In this position, you will be working in the very epitome of a 'fast moving' industry so keep reading to see if you have what it takes to be an SEO Executive.
View and apply for SEO Jobs | View more Marketing Job Descriptions
What Will I Be Doing?
As we inferred above, the last few years have seen substantive changes in the role of SEO Executive. Responsibilities include:
Conducting on-site and off-site analysis of your clients' SEO competitors.
Using programs such as Google Analytics to compile regular performance reports.
Assisting the content team in the creation of high quality, informative SEO content.
The creation of on-site and off-site SEO strategies for clients in various industries.
Occasionally contributing to the company blog.
Carrying out detailed keyword research according to the latest keyword strategies.
Keeping up to date with the most recent developments in Search Engine Marketing (SEM).
Paying particular attention to any significant Google algorithmic changes.
Is There Anything Else?
The SEO landscape is substantially different than it was just a few years ago. It can be perceived as a positive or negative shift depending on where you stand. If you can keep up with the heavy workload and manage all the metrics effectively in the array of spheres involved in the role, you can earn a very high salary. Alternatively, as a freelance worker, you could charge hefty fees.
On the other hand, if you are niche and tactical, there is a danger of being undervalued. In this situation, you need to work hard to convince managers/clients that you are worth more. Regarding working hours, you may occasionally work standard weekday hours although as an executive, you'll usually have to work weekends and late hours. This is especially the case when analysing traffic for a major campaign.
SEO Executive Career Path
The role of SEO Executive is available to all college graduates, but the path may be a little smoother if you have a degree in Marketing, Business or IT. It is possible to forge a career in this field without a degree, but you must have a substantial amount of relevant experience and a high level of technical skill.
If you wish to expand your skills and knowledge and perhaps accelerate your route to the top, there are a variety of postgraduate degrees in the field of marketing that could help you reach the next level. It is worth considering an MA if you don't have a BA in the relevant field. Look for a reputable organisation such as the Chartered Institute of Marketing (CIM) Ireland.
SEO Executive Salary
An SEO specialist in Dublin will earn in the €40,000-€60,000 per annum range; outside the capital, this rate falls to €32,000-€45,000. As an executive, this salary could rise to €48,000-€80,000 a year in Dublin with a maximum annual salary of €60,000 in Ireland's other major cities. If you rise to the rank of digital marketing manager, your annual pay packet could reach €120,000.
What Are The Good Points?
While there is a lot of competition, the SEO sector is positively booming right now, and experts believe that qualified SEO employees will always be in demand. Flexibility is key as you could be programming one minute and analysing content the next. However, you will often have complete control over your workload and with experience; you'll learn how to prioritise.
As well as having the opportunity to work on big campaigns, there is also the potential for further career development. SEO Executives can ultimately work their way up to the position of director.
What Are The Bad Points?
Most SEO Executive roles will only be available in large companies that have marketing departments. As a result, the majority of openings are in Ireland's major cities. As you would expect, Dublin has the lion's share of jobs so you may have to commute or even move if you wish to further your career. Certain clients may require you to dress professionally although agencies tend to be a bit more relaxed. As a freelancer, you can wear what you want!
Is a Career as an SEO Executive Right For Me?
To become a successful SEO Executive, you'll need the following:
At least one year's experience in the field of SEO/SEM although most agencies require a lot more.
Experience when it comes to using tools such as Google Analytics and Google Webmaster.
High-quality reporting, copywriting and analytic skills.
Excellent time management skills and the ability to prioritise work.
A detailed understanding of PR in order to get the client's message heard.
Experience in HTML coding, PHP, and JavaScript.
A desire to understand what drives Google's algorithms.
A commitment to keeping your skills and knowledge up to date.
If you liked the information provided in this Search Engine Optimisation Executive job description from responsibilities to salary and career path, then the job of SEO executive might be an ideal job for you.