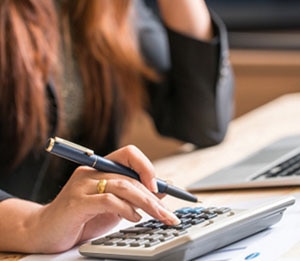 Jobs in the financial services sector have grown over the past 24 months, with demand from both multinationals and SMEs in areas such as fund management, banking and insurance.
It's expected that financial services companies will expand team sizes as well as create new teams within their growing organisations.
So what can a professional in financial services expect to earn?
Looking at salaries in financial services a qualified finance manager can earn between €70,000 and €85,000 in Dublin, while a newly qualified accountant can earn between €48,000 and €52,000.
Financial Services – Qualified
| | | |
| --- | --- | --- |
| Job title | Dublin € p/a | Regional € |
| Chief Financial Officer | 125,000 – 180,000 | 100,000 – 130,000 |
| Financial Controller | 75,000 – 110,000 | 70,000 – 85,000 |
| Finance Manager | 70,000 – 85,000 | 60,000 – 80,000 |
| Internal Audit Manager | 70,000 – 100,000 | 60,000 – 70,000 |
| Internal Auditor | 50,000 – 70,000 | 45,000 – 55,000 |
| Financial Reporting Manager | 65,000 – 85,000 | 65,000 – 80,000 |
| Financial Reporting Accountant | 50,000 – 70,000 | 50,000 – 65,000 |
| Project Accountant | 55,000 – 90,000 | 55,000 – 65,000 |
| Treasury Accountant | 55,000 – 80,000 | 50,000 – 65,000 |
| Senior Financial Analyst | 55,000 – 80,000 | 48,000 – 60,000 |
| Financial Analyst | 50,000 – 65,000 | 45,000 – 55,000 |
| Senior Financial Accountant | 55,000 – 75,000 | 50,000 – 70,000 |
| Financial Accountant | 50,000 – 65,000 | 45,000 – 60,000 |
| Management Accountant | 50,000 – 65,000 | 45,000 – 55,000 |
| Newly Qualified Accountant | 48,000 – 52,000 | 40,000 – 45,000 |

Financial Services – Part Qualified
| | | |
| --- | --- | --- |
| Job title | Dublin € p/a | Regional € |
| Finalist | 40,000 – 45,000 | 32,000 – 40,000 |
| Assistant Accountant | 35,000 – 42,000 | 30,000 – 38,000 |
| Accounts Assistant | 30,000 – 35,000 | 25,000 – 30,000 |
| Accounts Payable | 28,000 – 35,000 | 25,000 – 30,000 |
| Administrator | 28,000 – 35,000 | 25,000 – 30,000 |
| Accounts Receivable | 35,000 – 40,000 | 25,000 – 32,000 |
| Administrator | 28,000 – 30,000 | 20,000 – 25,000 |
| Credit Controller | 40,000 – 45,000 | 32,000 – 40,000 |
| Graduate | 35,000 – 42,000 | 30,000 – 38,000 |