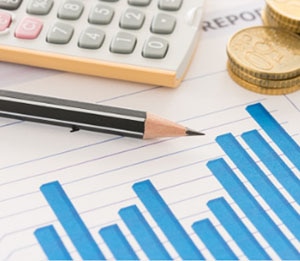 Jobs in banking have grown over the last twelve months and across all banking sectors there has been an increase in salaries.
In domestic and retail banking  there has been a 2-5% increase on base salaries. While, in the investment / international / corporate banking field, there has been a rise in salaries across the board averaging 5% and upward.
For graduates entering the market in 2016 there has been a rise in entry level salaries. Most candidates, who have a masters and undergraduate degree, entering roles within an international bank are commanding salaries from €28,000 – €30,000 base.
Banking – Front Office
Job title

Dublin € p/a

Regional €

Senior Trader
90,000 – 145,000
80,000 – 100,000
Trader
45,000 – 90,000
40,000 – 70,000
Trade Execution Manager
70,000 – 95,000
50,000 – 80,000
Trade Execution Dealer
40,000 – 60,000
30,000 – 40,000
Senior Portfolio Manager
95,000 – 145,000
75,000 – 100,000
Portfolio Manager
70,000 – 95,000
50,000 – 80,000
Senior Product Specialist
70,000 – 95,000
50,000 – 80,000
Product Specialist
45,000 – 70,000
35,000 – 55,000
Communications Specialist
48,000 – 70,000
45,000 – 65,000
Senior Investment Analyst
75,000 – 95,000
35,000 – 55,000
Investment Analyst
45,000 – 75,000
35,000 – 65,000
Equity Analyst
(0-3 years' exp.)
30,000 – 40,000
22,000 – 32,000
Equity Analyst
(3+ years' exp.)
45,000 – 65,000
30,000 – 35,000
Credit Analyst
(0-3 years' exp.)
30,000 – 40,000
25,000 – 32,000
Credit Analyst
(3+ years' exp.)
40,000 – 65,000
30,000 – 45,000
Fixed Income Analyst
(0-3 years' exp.)
30,000 – 40,000
25,000 – 38,000
Fixed Income Analyst
(3+ years' exp.)
40,000 – 65,000
35,000 – 50,000
Research Analyst
(0-3 years' exp.)
30,000 – 40,000
26,000 – 32,000
Research Analyst
(3+ years' exp.)
40,000 – 65,000
32,000 – 50,000

Banking – Middle Office
| | | |
| --- | --- | --- |
| Job title | Dublin € p/a | Regional € |
| Head of Middle Office | 100,000 – 130,000 | 100,000 – 120,000 |
| Middle Office Manager | 55,000 – 75,000 | 55,000 – 70,000 |
| Middle Office Analyst | 35,000 – 55,000 | 28,000 – 45,000 |
| Corporate Actions Manager | 45,000 – 65,000 | 35,000 – 50,000 |
| Corporation Actions Specialist | 35,000 – 45,000 | 30,000 – 40,000 |
| Pricing Manager | 45,000 – 65,000 | 40,000 – 55,000 |
| Pricing / Market Data Specialist | 32,000 – 45,000 | 30,000 – 40,000 |
| Trade Support Manager | 50,000 – 65,000 | 35,000 – 45,000 |
| Trade Support Specialist | 35,000 – 45,000 | 28,000 – 35,000 |
| Custody Manager | 55,000 – 95,000 | 50,000 – 70,000 |
| Custody Administrator | 26,000 – 38,000 | 25,000 – 32,000 |

Banking – Back Office
| | | |
| --- | --- | --- |
| Job title | Dublin € p/a | Regional € |
| Cash Management Manager | 45,000 – 65,000 | 35,000 – 50,000 |
| Senior Cash Management | 35,000 – 45,000 | 25,000 – 35,000 |
| Cash Management Administrator | 28,000 – 35,000 | 23,000 – 30,000 |
| Settlements Manager | 45,000 – 65,000 | 35,000 – 55,000 |
| Senior Settlements Administrator | 35,000 – 45,000 | 25,000 – 35,000 |
| Settlements Administrator | 28,000 – 35,000 | 22,000 – 32,000 |
| Reconciliations Manager | 45,000 – 65,000 | 35,000 – 50,000 |
| Senior Reconciliations Administrator | 35,000 – 45,000 | 28,000 – 36,000 |
| Reconciliations Administrator | 28,000 – 40,000 | 25,000 – 32,000 |
| Payments Manager | 45,000 – 65,000 | 35,000 – 50,000 |
| Senior Payments Specialist | 35,000 – 45,000 | 25,000 – 35,000 |
| Payments Specialist | 28,000 – 35,000 | 25,000 – 32,000 |

Banking – Compliance & Risk
| | | |
| --- | --- | --- |
| Job title | Dublin € p/a | Regional € |
| Head of Compliance | 110,000 – 145,000 | 90,000 – 120,000 |
| Compliance Manager (5-7 years' exp.) | 70,000 – 95,000 | 55,000 – 80,000 |
| Compliance Manager (3-5 years' exp.) | 50,000 – 70,000 | 45,000 – 60,000 |
| Compliance Officer (1-3 years' exp.) | 30,000 – 50,000 | 25,000 – 40,000 |
| Head of Risk | 110,000 – 145,000 | 80,000 – 100,000 |
| Risk Manager | 70,000 – 100,000 | 50,000 – 80,000 |
| Risk Officer | 45,000 – 65,000 | 35,000 – 45,000 |
| Quantitative Risk Manager | 70,000 – 100,000 | 40,000 – 55,000 |
| Quantitative Risk Analyst | 40,000 – 65,000 | 35,000 – 45,000 |
| Operational Risk Manager | 70,000 – 95,000 | 50,000 – 80,000 |
| Operational Risk Executive | 40,000 – 65,000 | 35,000 – 55,000 |
| Financial (Credit / Market / Liquidity Risk) Manager | 65,000 – 95,000 | 50,000 – 80,000 |
| Financial (Credit / Market / Liquidity Risk) Analyst | 40,000 – 65,000 | 35,000 – 55,000 |
| Risk Analyst | 35,000 – 45,000 | 25,000 – 38,000 |
| AML Officer | 28,000 – 40,000 | 25,000 – 35,000 |
| Fraud Risk Manager | 50,000 – 65,000 | 40,000 – 55,000 |
| Fraud Risk Officer | 35,000 – 45,000 | 25,000 – 35,000 |

Banking – Lending Operations
| | | |
| --- | --- | --- |
| Job title | Dublin € p/a | Regional € |
| Operations Manager | 55,000 – 95,000 | 50,000 – 75,000 |
| Restructuring Manager | 55,000 – 95,000 | 50,000 – 75,000 |
| Portfolio Manager (5+ years' exp.) | 55,000 – 95,000 | 50,000 – 75,000 |
| Portfolio Manager (0-5 years' exp.) | 45,000 – 60,000 | 30,000 – 40,000 |
| Credit Analyst (5+ years' exp.) | 45,000 – 60,000 | 35,000 – 50,000 |
| Credit Analyst (0-5 years' exp.) | 30,000 – 45,000 | 25,000 – 35,000 |
| Lending Arrears Team Leader | 40,000 – 50,000 | 30,000 – 40,000 |
| Lending Arrears Specialist | 32,000 – 38,000 | 25,000 – 30,000 |
| Collections Officer | 30,000 – 40,000 | 25,000 – 30,000 |
| Customer Service Executive | 26,000 – 35,000 | 20,000 – 30,000 |

Banking – Retail
| | | |
| --- | --- | --- |
| Job title | Dublin € p/a | Regional € |
| Branch Manager | 60,000 – 90,000 | 50,000 – 70,000 |
| Retail Banking Team Leader | 35,000 – 45,000 | 30,000 – 40,000 |
| Senior Financial Advisor | 50,000 – 60,000 | 40,000 – 50,000 |
| Financial Advisor | 35,000 – 50,000 | 30,000 – 40,000 |
| Customer Service Executive | 26,000 – 35,000 | 20,000 – 30,000 |

Banking –Treasury
| | | |
| --- | --- | --- |
| Job title | Dublin € p/a | Regional € |
| Treasury Manager | 65,000 – 90,000 | 50,000 – 75,000 |
| Treasury Administrator | 28,000 – 35,000 | 25,000 – 35,000 |
| Settlements Administrator | 28,000 – 35,000 | 25,000 – 35,000 |
| Payments Specialist | 28,000 – 35,000 | 20,000 – 30,000 |

Private Banking
| | | |
| --- | --- | --- |
| Job title | Dublin € p/a | Regional € |
| Portfolio / Wealth Manager | 65,000 – 85,000 | 50,000 – 60,000 |
| Assistant Portfolio Manager | 45,000 – 65,000 | 35,000 – 55,000 |
| Client Service Executive | 30,000 – 45,000 | 28,000 – 35,000 |