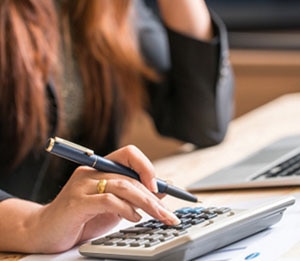 There is a buoyant market for jobs in accountancy with continued growth and movement across all levels and all areas of  professional accountancy firms.
The key markets showing growth and looking to add ambitious candidates are FMCG, hi-tech, media, retail and multinationals.
So what impact has this had on salaries for accountants?
Salaries for management accountants in Dublin are between €52,000 and €65,000 while outside Dublin a management accountant can expect to earn between €45,000 and €65,000.
Just qualified and wondering about salaries for newly qualified accountants? A newly qualified accountant in Dublin can earn between €48,000 and €52,000, outside of Dublin the salaries for newly accountants are between €38,000 and €48,000.
Looking at salaries for part qualified accountants and a credit controller in Dublin can earn €30,000 to €40,000 while salaries for credit controllers outside Dublin are slightly lower at €29,000 to €34,000.
Salaries for Account Payable positions are between €28,000 and €35,000 in Dublin and €24,000 to €32,000 outside Dublin.
Accountancy – Qualified
| | | |
| --- | --- | --- |
| Job title | Dublin € | Regional € |
| Financial Controller T/O > 10m | 85,000 – 120,000 | 80,000 – 120,000 |
| Financial Controller T/O < 10m | 75,000 – 110,000 | 70,000 – 110,000 |
| Finance Manager | 70,000 – 90,000 | 55,000 – 75,000 |
| Internal Audit Manager | 70,000 – 90,000 | 65,000 – 85,000 |
| Group Financial Accountant | 52,000 – 68,000 | 45,000 – 55,000 |
| Management Accountant | 52,000 – 65,000 | 45,000 – 65,000 |
| Project Accountant | 55,000 – 80,000 | 50,000 – 70,000 |
| Cost Accountant | 52,000 – 65,000 | 45,000 – 55,000 |
| Financial Analyst | 50,000 – 70,000 | 42,000 – 50,000 |
| Systems Accountant | 65,000 – 85,000 | 55,000 – 75,000 |
| Internal Auditor | 45,000 – 65,000 | 45,000 – 50,000 |
| Financial Accountant | 50,000 – 65,000 | 40,000 – 50,000 |
| Newly Qualified Accountant | 48,000 – 52,000 | 38,000 – 48,000 |
| Credit Control Manager | 45,000 – 65,000 | 45,000 – 55,000 |
| Accounts Payable Manager | 50,000 – 65,000 | 50,000 – 60,000 |
| Payroll Manager | 48,000 – 65,000 | 48,000 – 65,000 |

Accountancy – Part Qualified
| | | |
| --- | --- | --- |
| Job title | Dublin € | Regional € |
| Finalist | 40,000 – 45,000 | 28,000 – 40,000 |
| Part-Qualified Accountant (1-3 years' exp.) | 35,000 – 42,000 | 22,000 – 28,000 |
| Assistant Accountant | 35,000 – 42,000 | 30,000 – 35,000 |
| Book-keeper | 35,000 – 45,000 | 28,000 – 35,000 |
| Accounts Assistant | 30,000 – 35,000 | 23,000 – 30,000 |
| Credit Controller | 30,000 – 40,000 | 29,000 – 34,000 |
| Payroll Administrator | 35,000 – 45,000 | 32,000 – 40,000 |
| Accounts Receivable | 28,000 – 35,000 | 24,000 – 32,000 |
| Accounts Payable | 28,000 – 35,000 | 24,000 – 32,000 |