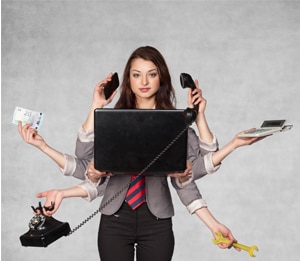 Job Description
Every successful manager or director has an efficient Personal Assistant (PA) that works tirelessly in the background. As a PA, you are expected to collaborate with high-ranking members of an organisation. Typically, you will be assigned to one person (usually a manager, executive or director) and are responsible for handling administrative and secretarial tasks.
Don't assume it is a 'gopher' role, however. A successful PA must know the inner workings of the entire organisation along with its aims and objectives. It is an important role as the manager expects you to handle matters while he/she is away. If you like the idea of being a crucial cog in a company's machinery, keep reading to see if the job of Personal Assistant is right for you.
View and apply for Personal Assistant jobs | View more Administration Job Descriptions
What Will I Be Doing?
A PA will usually act as a liaison between the manager and people within the organisation as well as with their clients. Your responsibilities include:
Taking care of the manager's travel arrangements including the booking of transport, accommodation and possibly visas.
Taking notes at a manager's meetings.
Creating reports, presentations, briefing papers, and other documents.
Meeting visitors and treating them with courtesy.
Ensuring the manager is fully prepared for meetings.
Creating and maintaining office systems including data management.
Handling phone calls and requests.
If you are new to the role, the majority of your tasks will initially be of the menial variety. This will include typing minutes, organising the manager's diary, and managing the company's junior office staff. As you gain experience, you will be trusted with extra responsibilities such as managing budgets and writing reports.
Is There Anything Else?
As this is an office-based role, Personal Assistants often work standard weekday hours. In addition to supporting your manager, you may also have a personal workload. Experienced PAs perform all the secretarial work themselves although you have the option of recruiting and training junior staff. You can delegate less private work to them.
Personal Assistant Career Path
Although you can become a PA with a degree in any topic, candidates with a BA in Management or Business are likely to have an advantage. It is also a fact that certain subjects within your degree could be relevant depending on the sector you want to work. For example, those who want to be a PA in the legal field should consider studying law while those interested in publishing should look at English literature.
Other useful subjects with a BA include Secretarial Studies and Administration. If you don't have a Degree, you can become a PA if you can convince a hiring manager that you possess qualities such as office skills. Even graduates are unlikely to become Personal Assistants straight away as they need a certain level of experience. You can increase your chances of hire by gaining a relevant qualification. An example is a Professional Executive PA Diploma from Pitman Training.
Personal Assistant Salary
Your salary will depend on the sector you work in. As an office support PA, your annual salary is likely to be in the €28,000-€55,000 range in Dublin and €25,000-€55,000 outside the capital. The variation in salary range outlines the fact that some sectors are far more lucrative than others. A PA for a large business corporation in Dublin is likely to receive €40,000+ per annum whereas a Personal Assistant for a company with smaller revenue will probably earn close to the lower level of the range.
What Are The Good Points?
As you gain additional experience, you will receive extra responsibility which makes the work day challenging and exciting. You automatically become one of the most trusted people within your organisation, and it is a dream role if you are a 'people person' because you'll come into contact with dozens of people a day. Practically every sector needs a PA, so employment opportunities are available in industries such as music, health, finance and business.
What Are The Bad Points?
There is no getting away from the fact that you'll have to perform menial duties from time to time. As a PA, you could be writing a critical report one minute and making coffee the next. It has the potential to be a stressful job as you'll come across demanding and difficult individuals. Being a PA means most of your time will be spent with one person so if you have a fractious relationship with that person, each day will be tough. Finally, your support role means you might not get the credit your work deserves.
Is the Personal Assistant Role Right For Me?
To become a successful PA, you must display the following traits:
Outstanding written and oral communication skills.
Excellent interpersonal, time management and organisational skills.
An understanding of confidentiality issues.
Adaptability and flexibility since you will be required to complete a wide array of roles.
The capacity to work under extreme pressure and meet tight deadlines.
The ability to research, analyse and present complex information in an easy to understand manner.
The capacity to delegate tasks as and when necessary.
If you liked the information provided in this personal assistant job description from responsibilities to salary and career path, then the job role of personal assistant might be a good fit for you.