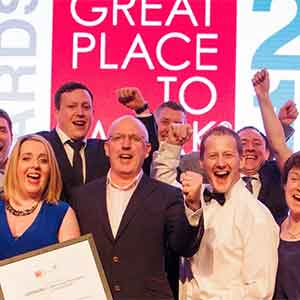 It's the New Year and new opportunities are waiting at Version 1 for ambitious IT professionals.
Suzanne Whelan, the Talent Acquisition Manager, Ireland & UK, for Version 1 says now is a great time to join one of Ireland's fastest growing IT companies.
"Why not begin your first new chapter of 2017 by broadening new horizons with Version 1? We hire individuals of the highest calibre, so if you are driven, committed and up for a challenge, then we want to meet you"
Here are Suzanne's five reasons for joining Version 1.
1. A great workplace – and don't just take our word for it.

Our award-winning local engagement strategy means we constantly focus on the needs of each team and each location – and together, we continuously work at making Version 1 a great workplace.
Version 1 has created an environment that places employee engagement at the heart of everything we do and ensures our culture is one where people trust the people they work for, have pride in what they do and enjoy the people they work with. Supported by a highly motivated and committed team we are ranked in the top 50 best workplaces in Europe and the top 10 in Ireland by Great Place To Work®;
2. We're growing, fast!
In 2016, Version 1 hired 200 individuals across various roles, we wish to further expand in 2017. We have over 300 customers across multiple industries and sectors over locations across UK and Ireland… and we're growing by the day.
3. It's about more than just the 'day job' at Version 1.
There will also be opportunity for you to get involved with our Capabilities. They bring together those with common skills and experience to ensure that we offer a World Class service to our customers by having consultants who are trained, knowledgeable and leaders in their field.
4. Help us grow and build the UK team.
In the UK we have expanded very rapidly from 0 to over 300 people in the last few years.  We are still in our formative stages in the UK and we need people who want to drive and shape an organisation, a culture, and a company by helping us find great people, shape our propositions and most importantly, deliver for new customers.
5. Get involved right from the start of a new project.
We have a very strong pipeline of opportunities for the first half of 2017.  If you want to expand your experience by getting involved in the formative stages of a project, then we may well have the right role for you!