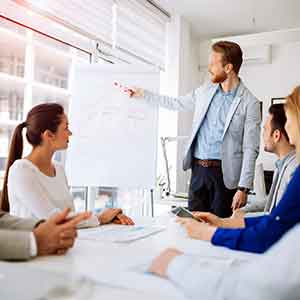 Jobs in digital marketing continue to grow, as it becomes a necessity for most company's marketing departments.
The utilities and hospitality sectors have been a real driver of the increase in digital marketing roles. SEO and PPC Specialists are in demand and these trends show no signs of slowing down.
The FMCG and automotive sectors have put a huge focus on brand and communications this year and with high-performing, global brands relocating to Ireland, there has been a steady increase in marketing jobs in these areas.
Job Title

Dublin

 

Regional

€K p/a

€K p/a

Marketing Salary

Marketing Director

100K – 140K

80K – 120K

Marketing Manager

55K – 80K

50K – 75K

Marketing Executive (5+ years' exp.)

35K – 50K

30K – 50K

Marketing Executive (1-5 years' exp.)

25K – 35K

25K – 35K

Brand Manager (5+ years' exp.)

55K – 75K

50K – 65K

Brand Manager (1-5 years' exp.)

40K – 55K

35K – 55K

Activation/Trade Marketing Mgr

40K – 55K  

40K – 55K

Channel Marketing Manager

45K – 70K

40K – 60K 

Customer Marketing Manager

60K – 75K 

40K – 70K 

Marketing / Brand Innovation Mgr

60K – 70K 

55K – 70K 

Insights Manager

45K – 70K

45K – 70K 

Product Manager (5+ years' exp)

55K – 80K 

50K – 75K

Product Manager (1-5 years' exp)

45K – 60K 

30K – 50K 

Category Manager (5+ years' exp)

40K – 50K 

40K – 50K

Category Executive

30K – 40K 

28K – 40K 

PR / Communications Manager

45K – 75K 

45K – 65K 

PR / Communications Executive

 30K – 40K 

25K – 35K 

Marketing and campaign manager

40K – 55K 

38K – 55K

Public affairs consultant

55K – 75K 

45K – 70K 

Media Adviser / Specialist

50K – 60K 

45K – 55K 

Events Manager

40K – 55K 

40K – 55K 

Events Executive

30K – 40K 

25K – 35K 

Sponsorship Manager

45K – 60K 

45K – 60K 

Sponsorship Executive

28K – 40K 

28K – 35K 

Fundraiser Manager

45K – 75K 

40K – 55K 

Fundraising executive

28K – 40K 

25K – 35K 

Online / Digital Marketing Salary 

Online / Digital Marketing Manager 

45K – 75K

45K – 75K

Online / Digital Marketing Executive

30K – 50K

30K – 50K

e – Commerce Manager

50K – 80K

50K – 80K

Digital Content Manager

50K – 65K 

50K – 65K 

Community Manager

40K – 50k 

40K – 50K 

Social Media Manager

40K – 55K 

40K – 55K 

Social Media Executive

20K – 35K 

20K – 35K 

SED Specialist

40K – 50K 

35K – 50K

PPC Specialist

40K – 50K

35K – 45K