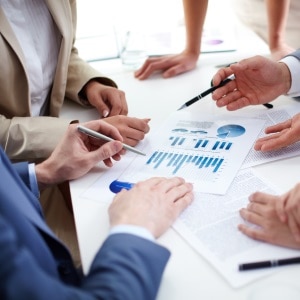 Job Description
Marketing is an enormous industry with any number of openings just waiting to be filled by talented employees. If you don't like the idea of a typical 9-5 job and are seeking excitement in your work, you are probably suited to a career in the world of marketing. Below, we provide an overview of the field while also briefly looking at a variety of different jobs available.
View and apply for Marketing Jobs
What Will I Be Doing?
Naturally, this depends on the role you chose within the marketing industry. For example, as a marketing executive you will be responsible for managing and controlling the relationship between what your employer has to offer and the audience. Your goal is to match the service/product with the needs and desires of your target audience in order to increase sales. It is a job where new challenges emerge every day as you continually perform market research. Here is an overview of what you will be doing as a marketing executive:
Liaising and networking with consumers, suppliers and colleagues.
Finding advertising opportunities and different mediums for adverts including the Internet, radio and television.
Managing marketing material production including posters, flyers, e-newsletters and more.
Evaluating existing marketing campaigns to see what improvements are needed.
Monitoring the activities of rival marketing teams.
As a marketing manager, you will be in charge of market research, promotions and product development in order to increase a campaign's chances of success. In this role you have the opportunity to work within a variety of sectors including fast moving consumer goods, the public sector, industrial products and consumer durables. Here is a quick list of things you will be doing as a marketing manager:
Creating marketing presentations and promotional briefs.
Giving presentations to clients.
Monitoring the progress of marketing campaigns.
Communicating with marketing executives during the aforementioned campaigns.
Developing marketing strategies.
Is There Anything Else?
While most jobs in marketing will be advertised as 9-5, Monday-Friday, the reality is likely to be very different. When deadlines need to be met you will be expected to work whatever hours are necessary to meet the demands of clients. Although you will do much of your work in an office-based environment, you will be asked to travel to meetings, conferences and other events.
The best opportunities for career advancement lie in sectors such as industry, banking, consumer goods and the public sector. It is possible to work your way up the ladder to become a marketing manager after you have proved your capabilities. Most graduates look to enter the Irish market initially before branching out into international or export marketing once they have gained enough experience.
What Are The Different Marketing Roles Available?
Marketing is a varied field with a huge number of opportunities including the following:
Marketing Executive: You will effectively act as a 'middleman' in the marketing industry as you ensure there is a good relationship between the product/service and its target audience. Another important part of your job is networking with the public and your clients. For example, you may work with the public during market research. Marketing Executive Job Description | Marketing Executive Jobs
Brand Marketing: In this role you will be charged with ensuring your client makes a good first impression in the marketplace. Basically, you will be in charge of making sure that the integrity and appearance of your client's brand is the best it can be. Duties include keeping an eye on market trends, overseeing a team of junior staff and writing & presenting reports to senior staff members. Brand Marketing Job Description | Brand Marketing Jobs
Content Marketing: This role has gained major importance in the marketing field in the last few years. It is common for brands to publish consumer information and news so your role will include creating high quality marketing content that captivates your target audience. The job also involves editing the content to ensure it reads well and you must also continually think of new and exciting ways to communicate your client's brand to the world.

Content Marketing Job Description

| Content Marketing Jobs
Marketing Campaigns: As you can tell from the job description, you will be right at the heart of the action as you help drive marketing campaigns for a client's product/service. Typical duties include creating press releases, organising market research and arranging promotional content. Marketing Campaign Jobs
Customer Relationship Management: In this role you will need to plan, execute and follow up on a wide range of customer retention campaigns while also producing the annual budget, monthly forecast and other business reporting.CRM Executive Job Description | CRM Jobs
Digital Marketing: In this role you will be responsible for developing your company's communication strategies in a digital world. The most important areas include social media marketing, pay-per-click (PPC) campaigns, search engine optimisation (SEO), affiliate marketing and mobile marketing. Duties include staying up to date with existing digital trends, getting the best price for clients by negotiating with media suppliers and adding your input to brand awareness and social media campaigns. Digital Marketing Jobs
Channel Marketing: In this role you will be responsible for the development, execution and measurement of marketing plans and lead-generation programs for a number of products deemed to be 'channel ready'. Typical duties include managing the channel marketing budget and expenses, analysing and reporting progress against campaign goals and track market & channel trends while being prepared to adjust channel strategies when necessary.
Direct Marketing: This job involves promoting the services, products and brand of clients to an audience of existing and potential customers. You will be expected to increase sales by finding innovative new ways to reach your client's target audience. Typical duties include meeting with clients to discuss their products and services and ensuring all campaigns are completed on time and within budget. Direct Marketing Jobs
Market Research: If you like data analysis and statistics then you will enjoy a career as a market researcher. As you might expect from the job title, you will plan, control and analyse information received which normally relates to what people or companies purchase, need, think or do. Duties include investigation of market activity, the assessment of future trends and the coordination of research projects.Market Researcher Job Description | Market Research Jobs
Advertising: If you work in advertising you will probably be working for a company within the media sector which includes magazine publishers, radio stations and newspapers. Typical duties include convincing clients to purchase advertising space/time, explaining the benefits of your medium and closing the deal.Advertising Manager Job Description | Advertising Jobs
Public Relations: This is a job within the marketing sector that involves promoting a company/brand and attempting to create as much publicity for them as possible. Duties include creating PR strategies, arrangement press conferences & events and overseeing the production of content including videos, adverts and social media.

Public Relations Job Description

| Public Relations Jobs
Social Media: In this role you will be charged of assisting the clients when it comes to setting tangible and realistic campaign goals, you will be able to develop content strategy which determines what makes your clients' businesses unique before describing their 'ideal' customers. The job also involved converting followers/fans into paying customers.

Social Media Job Description

| Social Media Jobs
Salary
We take a look at three areas of marketing to determine the kind of salaries you can expect to earn in the field:
Digital Marketing: Entry level copywriters earn around €30,000 a year; this can rise to over €60,000 a year once you have 5+ years of experience. As a digital media planner you can earn up to €45,000 in your first few years and once you have 5+ years of experience, your salary could swell to €65,000 per annum. Online project managers are usually experienced marketers and can earn around €65,000 a year. As a head of digital marketing, you could earn €80,000-€120,000 a year.
E-Commerce: Traffic analyst is deemed to be an entry level role in this field yet it still pays €30,000 a year at graduate level rising to over €70,000 over the course of time. If you reach the level of e-commerce manager you could earn €55,000-€70,000 while the head of e-commerce can earn €110,000-€130,000 per annum.
Retail: An events manager at entry level earns €25,000-€30,000 a year rising to €35,000-€45,000 after 5+ years. Category executives earn €24,000-€30,000 at entry level with their earnings rising to €40,000 after a few years. If you become a marketing & campaign manager it is possible to earn €65,000-€80,000 a year once you reach a certain level of experience.
If you wish to learn more about the salaries in the marketing field, click here for more information.
What Are The Plus Points?
There is no shortage of opportunities available including roles in the consumer sector with retail chains or manufacturers and jobs in the public and service sectors. Marketing is an industry where hard work tends to be rewarded both in terms of salary bumps and promotions. If you're lucky you will get to work on marketing campaigns for corporate giants and network with influential figures within the industry.
While initial marketing salaries are not that high, they can rise rapidly and, depending on the sector you choose and your employers, there may be incentive based programs in play which could significantly boost your earnings. Finally, it is an industry where you can really allow your creativity to show.
What Are The Downsides?
You may be asked to travel to conferences and other events far away from home which can often mean overnight stays. Although you will often only need to work traditional hours, this will change when deadlines loom. It is a high pressure industry where results matter so there will be times when you feel under a lot of strain.
What Educational Qualifications Do I Need?
Again, it varies depending on the role you choose within the industry but most applicants for marketing roles will have a degree in marketing or a related field such as business, economics, accounting or maths. If you lack these qualifications it is a good idea to build up your level of experience in customer service or a commercial business.
You can also brush up on your skills via a 'short course' which is effectively a training program with a short duration. The Marketing Institute of Ireland offers a host of short courses including its 13 week Digital Marketing Executive Programme, a half day workshop in Google Analytics and a Marketing Strategy & Tactics in a Digital World.
Is It The Right Job For Me?
If you want to be a success in this field you need the following:
Excellent written and verbal communication skills.
Good negotiating and skills.
The ability to work by yourself or as part of a team.
A deep knowledge and understanding of statistics.
A creative approach to new marketing campaigns.
An immense amount of drive and determination.
If you liked the information provided in this Marketing Job Description from the duties to salary to progression opportunities, then a career in marketing might be right for you.