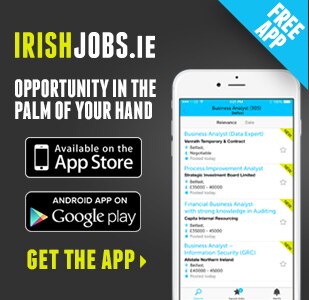 When you are looking for a job app to download you want a jobs search app that is not only easy to use but also has access to thousands of real jobs from leading companies.
The ideal jobs search app for Ireland
The new IrishJobs.ie app, which is now available for you to download via the app store or via google play, is the perfect job app for Irish jobseekers.
Not only does the new IrishJobs.ie app allow you to search for your dream job across 30+ industry sectors, you can also apply quickly and easily for the latest jobs posted by every type of organisation in Ireland, from big brand companies to local businesses across the country.
With the free IrishJobs.ie app you can;
• Save jobs
• Refine jobs by location
• Filter jobs by date & relevance
• Easily view full-time, part-time, permanent, temporary & contract roles
• Create job alerts
• Receive push notifications for the latest roles
• Email job details to yourself to apply later
• Apply for jobs with just a few taps
The IrishJobs.ie app is the ideal recruitment app for anyone who is either actively looking for a new job in Ireland or just keeping an eye on the jobs in their sector. The job app was developed with the needs of the Irish jobseeker in mind and will prove to an essential career tool for all candidates.