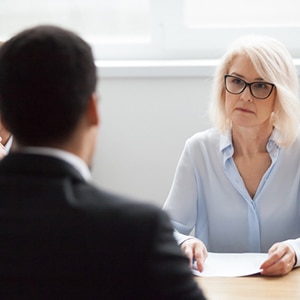 You're fully prepared for your interview, you have triple checked your CV and researched the hiring company. You have examined all the key points you want to highlight.
You arrive for your interview, walk in the door and within one minute or less you know it's not working.
There is no meeting of minds; there is no connection, the interview is dead.
Your interviewers go through the motions of asking a few benign questions, then thank you for your time and advise you that they will be in touch. It wasn't working for them either.
You exit fast, feeling disappointed and not understanding exactly what went wrong?
Connection
A successful salesman or saleswoman will tell you that before you sell any product, no matter what it is, they will sell themselves first. If the seller doesn't like or relate to the buyer, there will be no deal done.
In an interview, never forget that you are the salesperson and the product you are selling, is yourself.
You may have all the right qualifications, all the necessary experience, but if you just don't 'connect' or sell yourself, it won't work.
The interviewers are watching and listening to you and will very quickly decide if you have or have not the experience required.
However, there is one over-riding factor that will be a large part of the decision-making process; call it what you like; the X factor or maybe it's simply; 'do I like this person?' Could I work with them for eight hours a day? Would I like them on my team? Are they a good "fit" for the company?
All the while the interview is in progress this is a silent consideration and something that can't be defined on any job specification.
Preparation
Your presentation and your general demeanour should be considered carefully, reviewed and practised. But you can only prepare and deliver a well-prepared presentation if you are well prepared.
Again, and again, I experience individuals attending interviews who believe they are well prepared and know their presentation and career history thoroughly. Everyone, when asked, says the same. Of course, I know my career history, they will say; didn't I live through it? Yes, they did, but in the tense and stressful atmosphere of an interview, 90% of what you think you have prepared will be forgotten.
For a full and effective preparation for an interview, you must recall and re-live every event of any importance in advance. Re-live every moment and recall the smallest details. Recall relevant situations or events where you worked. Recall the issue you dealt with, the colleagues you worked with, how you overcame obstacles and the results you achieved. Recall how much it cost or how much you saved; one thousand or one million. Maybe you reduced headcount, reduced downtime or better still you increased sales by X amount. For every situation you recall, add the value in numbers or monitory terms.
Only with this kind of detailed recalled, 'refreshed' and embedded in your memory, can you then attend to your personal presentation and importantly your body language.
Body Language
It's only when you know your career details like you know your own name and address will your brain allow you to talk the talk about career details while at the same time paying attention to your demeanour.
Your presentation and your body language must be personable and affable. The obvious but often forgotten elements of your presentation and body language are;
• On arrival smile at the interviewers and greet them with a friendly nod.
• Without asking, shake hands with each and greet them by name. You should have got all the names and details in advance from the recruiter or HR dealing with it if they don't know ask them to find out. You're entitled to know.
• Don't be afraid to engage in some small talk. A complimentary comment about their nice offices or their location would always be safe.
• Don't be afraid to engage in some friendly banter with the interviewer. But don't initiate it.
• If it transpires you know more about some technical elements of the job than the interviewer does, never, ever 'show off' your superior knowledge. Tread carefully in this situation and be careful never to belittle the interviewer.
• As a rule, there are usually two or three interviewers. When answering questions look from one to another as you speak. Include them all in your answers.
• Sit in a relaxed fashion, don't slouch and do not fold your arms. Don't fidget it's irritating.
Importantly, relax and remember your interview is no more than a meeting between two people to see if there is a meeting of minds in relation to a job on offer. Most times they are not trying to trip you up or catch you out on a detail. They just want to hear you tell them of your experience.
Are they right for you?
And a final point to consider is that you are interviewing them, just as much as they are interviewing you.
The good "fit" mentioned earlier works both ways.  Does the company offer you the opportunities you want at this stage of your career? Will how they work suit you? If the interview doesn't take off then perhaps that is more about them than you.  You can only make that assessment if you have been meticulous in your preparation.
So, even before you reach the interview stage, I would advise you take some time to think about how you like to work and what is important to you in a work environment. Then look for a company that matches your requirements.
If you have done your research at this stage, then all the interview tips above should make sure you sail through the interview with ease.