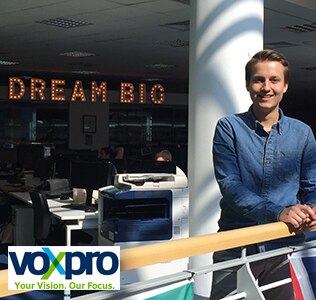 With headquarters in Cork, Voxpro is an award winning provider of Multilingual Customer Experience & Technical Support solutions to giant global brands.
The Irish company is always looking for bright, creative talent to join their rapidly growing teams in offices in either Cork, Dublin or San Franciso.
Bastien Duterme is from Belgium and he works in the Airbnb team with Voxpro in Cork.  He told us about his job and why he loves working with Voxpro.
What is your job?
My job mainly consists in providing friendly and efficient service to the Airbnb community. Then of course, you have issues to deal with and need to escalate them appropriately. The most important thing is the personalization; every customer is different and every one of them should get a warm welcome and deserve to be treated as a VIP. Another big point here is that when you have a question, you have a big database containing everything you need to assist you. If you prefer, you can always ask a colleague. Everyone is helping each other! I personally follow every call with a follow up email.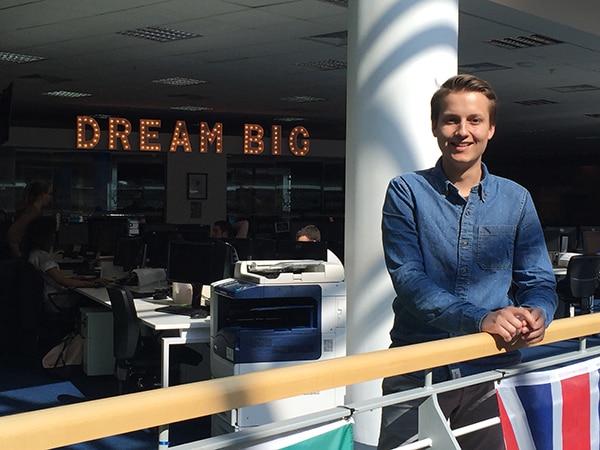 Describe your typical working day?
I always arrive at least 30 minutes before I start. The reason why is simply that we have got either great Nespresso coffee machines or home-made coffee and freshly made pastries. That's the perfect breakfast for a great day! Now it's time to work. I help customers all day long by being the friendly and smiling voice of Airbnb. Here at Voxpro, we have people speaking 15 different languages so if you need any help with a language you don't speak, the Voxpro family is here for you, don't worry!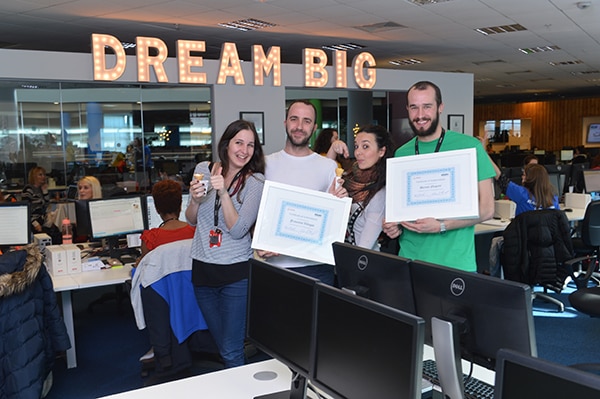 What qualifications do you have/what is your previous work experience?
I am originally from Belgium. I did study accounting and professional communications for 6 years in Belgium. While studying, I did an internship in a IT shop as a receptionist and then I have been involved further by helping technicians.
 What is the best thing about your job?
My colleagues! They are all amazing and here at Voxpro we are more like a big family. The atmosphere is really great and friendly. Each team has their own allocated space which is fitted out in the style and colours of the company that they are representing! You can be in a Chinese meeting room and 10 meters later you end up in a Hollywood meeting room, that's fantastic! If you ever think about customer service atmosphere or if you have ever been working in one, come and see Voxpro which has a completely different approach! Voxpro offices are big, bright, upbeat and funky. Everybody is happy to work for Voxpro and that reflects in their work. Today, I am personally delighted to be part of the family!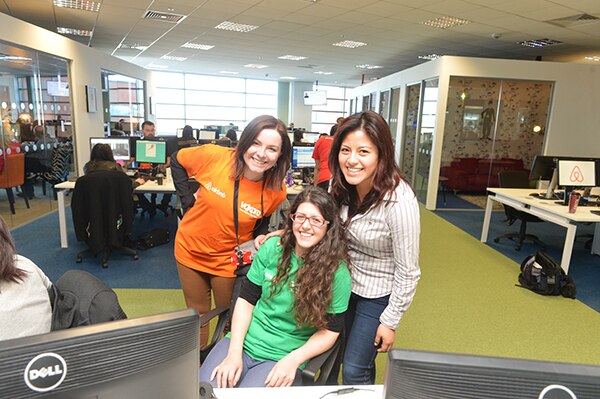 And the biggest challenge?

The biggest challenge is to make sure that the customers feel supported and happy at the end of a call or when a case is closed! I will always do my best to go beyond the customer expectations so I really try to WOW them!
What other skills do you need in your job?

You need to be friendly, organised, entrepreneurial and be a team player.
 
What is it like to live in Cork?
Cork city is amazing! Day time, everybody is out smiling and happy. If I had the time, I would stop in every shop. Night time, people are getting ready to go out! Every night is busy in Cork, there are so many pubs and restaurants! During weekends and bank holidays, the roads are chockablock and nightclubs are nearly full. Everything you need can be found in Cork, trust me; from the supermarket to the nightclub.
What advice would you give someone considering applying for a job with Voxpro?
Be ready to embrace the adventure, dream big and be yourself. There is nothing else needed. That was my behavior when I applied at Voxpro a few months ago.