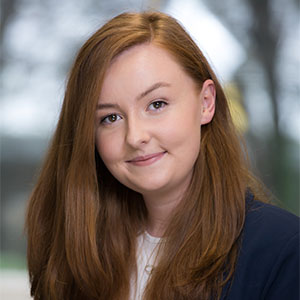 Paddy Power Betfair is looking for talented graduates with a passionate for providing fun, innovative and creative customer experiences to join their business.
The company offers a variety of Graduate Programmes tailored to harness the skills and ambitions of the successful applicants.
For grads with their sights firmly fixed on a particular discipline then the Paddy Power Betfair Graduate Programme allows you to work within your specialism with placements for graduates in Marketing Science & Insights, Finance or Customer Operations.
For grads yet to commit to a particular business discipline the Paddy Power Betfair Commercial Graduate Programme gives the chance to gain experience with five four-month rotations.
The rotations take place across a number of key areas of the business including VIP, Commercial International, Business to Business, Insights & Analytics, Paddy Power Commercial, Betfair Commercial, Risk & Trading, Product, Customer Experience, Retail and TVG.
Jill Watkins is part of the most recent intake of graduates to join Paddy Power Betfair. She told IrishJobs.ie about her working day and just what Paddy Power Betfair can offer ambitious candidates.
What do you do?
My first placement on the Paddy Power Betfair Commercial Graduate Programme sees me working on the Casino marketing team within the Paddy Power Commercial department. We focus on how best to market Paddy Powers Casino various games to our current and potential customers. To do this I work a lot on promotions which are running onsite along with the creation of content to communicate our offerings to customers. This could mean coming up with design briefs, onsite copy or new promotional ideas.
Describe your typical working day?
In a nutshell, my typical day consists of planning further promotions, drafting onsite content, liaising with varying teams to move upcoming campaigns along and coming up with creative ideas for design to work on.
What are your qualifications?
I have a Bachelor of Business Studies from Trinity College Dublin and a Masters in Digital Marketing from UCD Smurfit Business School.
What attracted you to the Paddy Power graduate programme?
Probably the biggest thing that attracted me to this programme is the diversity. Over the course of the programme, I'll have the opportunity to work across the whole company with a variety of teams on various different projects. As a graduate, I found that to be really attractive because so often people end up pigeonholed into certain roles with little scope to try different things before committing.

Tell us more about the recruitment process for the programme?
The recruitment process was quite similar to other programmes. It started with a CV application followed by a Telephone Interview before being invited to complete psychometric testing. The last stage was being called to an assessment day. The whole process was really enjoyable and offered a good candidate experience.
What is the best thing about your job?
The people would have to be the best thing. Everyone is so open, smart, hardworking and fun. Nobody takes themselves seriously yet everyone works extremely hard. People are also so quick to help if you ask which makes settling into a new work environment so much easier. Overall it is just such a fun and fast paced environment to work in and it exposes you to so many disciplines so quickly.
And the biggest challenge?
The biggest challenges are the pace of work and the responsibility. When you start you are very quickly given a lot of responsibility and autonomy to make decisions. This is amazing, especially when you're just starting out but it definitely takes time to get used to! Also, the pace that we move at is so quick because of the industry. This means we are constantly on the move which again takes getting used to.
What advice would you give someone considering applying for a place on the graduate programme?
I would say just apply, be yourself and have an opinion!