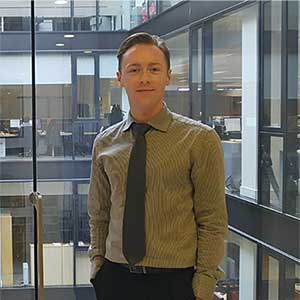 Finance professionals Bank of Ireland has a number of exciting career opportunities available for you.
Bank of Ireland is currently expanding their Group Compliance and Regulatory Risk department so we caught up with Colin Hickey who joined the Conduct Risk team at the end of last year.
He told us more about his job and working in the Risk, Compliance, Audit and Regulatory section of Bank of Ireland.
What does your role involve?
My role on the Conduct Risk team within Group Compliance and Regulatory Risk, (GCRR) involves assisting business units to identify and understand their responsibilities and obligations with regards to Conduct Risk policies, as well as all customer focused regulations and CBI Codes. Luckily, this does not require that I am a subject matter expert in all areas.
In instances where I cannot personally provide the response, I will liaise with colleagues across the greater Group Compliance and Regulatory Risk function, which provide supportive advice. On occasion we have received queries outside of the team's scope, however, we always endeavour to find a solution.
What qualifications do you have?

I obtained a first class honour's degree in Financial Services from Dublin Business School. At the time I was working full time and studying in the evenings. It was hard work but worth it in the long run.
Since graduating, I have continued my education and professional development and now in addition to my Degree I also hold a Professional Certificate in Mortgage Practice; the Qualified Financial Advisor designation; a Professional Certificate in Conduct Risk, Culture and Operational Risk and most recently I obtained a Certificate in Compliance. In the future, I hope to continue my studies and obtain the Diploma in Compliance.
What is your previous work experience?

I spent the past 8 years working for a financial service outsource provider, where I was based within their Retail Debt Management department. I managed teams who assisted personal customers experiencing difficulty repaying their debts. The work was challenging and the hours were long but it was definitely a worthwhile and character building experience, which will stand to me in the long term.
What attracted you to the role?

Conduct Risk is not a tick-the-box approach, which can be typically associated with Compliance departments. Conduct Risk is about making sure customers are treated fairly and get the best possible outcome. After working closely with customers who predominately felt let down by the banks, it is great to work in an environment where I feel that I am contributing towards and supporting a positive change to how customers are perceived and treated. E.g. promoting good Conduct across the Bank of Ireland Group.
What is the best thing about your job?
No two days are the same. You can never tell what type of query will come our way or the 'what if' scenario someone will ask. As we assist the entire Group, queries come from across all divisions in the First Line with each being specific to their individual roles. There is a mountain of information to learn and interpret and every day is a school day! Plus, it's great when you can help the First Line resolve their issues and concerns.
And what is the biggest challenge?
At times, there can be the perception that the team provides obstacles that the business has to overcome, rather than what we actually are – a support and oversight function. As a result, we are careful to ensure that we are not fuelling this misperception.
In order to keep the business safe, we do at times need to stop a particular course of action, however, we still need to ensure that we are supporting and not blocking the business.
We need to be vigilant that we are always encouraging and supporting alternative routes to get the business to where they want to be. We need to be facilitators, not blockers, whilst ensuring the business and our customers are both safe and protected.
What other skills do you need for your job?
It is important to be able to query and challenge the norms but more importantly in a constructive and positive manner.
We need to ensure that BOI products, services and processes support our customers and that we do not just accept that the current practice is the best practice. One needs to be confident that we are asking the right questions and in the right way.
Every single employee within this group is a potential shareholder of this team and with 11,000 potential stakeholders, good stakeholder management is essential.
Where do you see yourself in 5 years' time?

Within 5 years I would hope to be fairly well versed in all things Conduct related and my plan would see me go down one of two paths, either remain within the Conduct Risk team, moving up the GCRR ladder and passing my knowledge along to newer colleagues or perhaps present myself with a new challenge, perhaps move into a different area within the overall risk function.
What advice would you give someone considering a career in your profession?
For anyone looking to move into a Conduct Risk type role, without related work experience, I would definitely recommend that they sit some of the Association of Compliance Officers exams like I did.
From working in the financial service industry I had already built up the regulatory basics however formal study really brought me up a level where I could be confident in the areas that were regulated and the advice that I was providing.