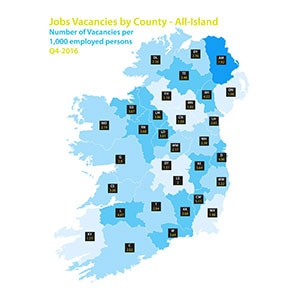 IrishJobs.ie and NIJobs.com, Ireland's leading recruitment websites have joined forces to produce the country's first ever all island Job Vacancy Map.
The IrishJobs.ie Vacancy rate is calculated by the number of jobs available in a location, divided by the number of people in employment in that county.
Supported by Intertrade Ireland, the report found that counties Antrim and Dublin show the highest job vacancy rates, with Antrim boasting the highest vacancy rate of any county on the island of Ireland.
Brexit's Border And Job Vacancy Rates
With Brexit negotiations underway, the research has shown that Antrim's high vacancy rate can be partly attributed to the concentration of large employment centres in this county (Belfast, Lisburn, Larne, Ballymena, and Bangor) in combination with high levels of inter-county commuting.
The data also reveals that central border counties have some of the lowest vacancy rates in the country. Fermanagh (1.19) is the worst performer on the island while Cavan (1.59) and Monaghan (1.85) also registered very low rates.
Dublin and Limerick – A Tale of Two Cities
Dublin's high vacancy rate (4.96) and its high employment rate, put it ahead of any county in the Republic of Ireland. However, if left unchecked, this combination could push Dublin's local economy into overdrive and potentially see further cost of living inflation increases.
Limerick City's high job vacancy (4.47) nearly equals that of Ireland's capital. However, according to recent figures from Census 2016, Limerick has an above average unemployment rate of 14.4%. The research indicates that this may be due to the rise of vacancies in highly skilled jobs in sectors like technology and science that has outgrown the talent pool of graduates and employees within Limerick. As a result, there is a growing skills gap and talent shortage emerging within Limerick.
The All Ireland Report was compiled by economists Chris Van Egeraat of Maynooth University and Declan Curran of Dublin City University.
Economic geographer Chris Van Egeraat said: "Overall, high vacancy rates in Dublin and Antrim can be considered an indicator of strong employment activity, but in the medium term this can lead to wage inflation. It's also worth noting that concentration of employment opportunities in one region obviously puts a strain on housing and services."
To read the full All Island Job Vacancy Report CLICK HERE