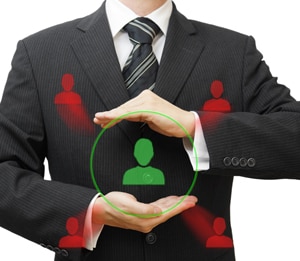 Job Description
The role of the Customer Relationship Management (CRM) Executive is becoming even more important as organisations realise the necessity of increasing their knowledge of their target market.
A CRM Executive must know the needs of his/her customers and have knowledge of the problems consumers want to be solved. As well as dealing with customer requests, you must offer ideas and insights as a means of helping to improve their experience. If you enjoy the challenge of giving people what they want, read on to discover if you should become a CRM Executive.
View and Apply for CRM Executive Jobs
What Will I Be Doing?
Your typical duties will include:
Planning and delivering CRM strategies across the organisation with a view to retaining existing customers, increasing brand loyalty and expanding the company brand.
Deciding on a final CRM structure and architecture that will work seamlessly across the business and capture crucial information along the sales funnel.
Making sure the customer database is correctly segmented for targeted marketing activities.
Collaborating with other departments ensure the CRM strategy works well for every aspect of the business.
Development of testing strategies to guarantee the most efficient approach for the organisation and its customers.
Coming up with creative ideas, preparing proposals, overseeing the production process & execution and reporting the results to the relevant people.
Is There Anything Else?
While it is ostensibly an office-based role, CRM Executives are expected to travel to meet clients. You could work traditional hours during slow periods but in the midst of a campaign, long hours and weekend work is common. There may even be occasions when you have to stay away from home overnight.
Customer Relationship Management Executive Career Path
Building your experience and knowledge is crucial if you hope to enjoy a good career in marketing. There are a number of ways to gain what you need via higher education or an apprenticeship. If you go down the college route, a BA in Marketing, Business Management, Advertising, Digital Advertising or Marketing & Events Management will prove useful.
If you don't go to college, a Leaving Cert with good grades in English, Maths, Economics, and Business Studies will give you a decent foundation. You could continue your career path with an apprenticeship in Communications, Digital Marketing or Sales & Marketing. The Marketing Institute of Ireland (MII) offers a variety of professional qualifications. You can complete a Short Course, Executive or Postgraduate Diploma, or an MSc in Marketing. While additional qualifications are always welcome, what employers want to see is evidence of working on successful marketing campaigns. You can become a CRM Executive over a period once you have displayed the ability to lead a team.
Customer Relationship Management Executive Salary
A CRM Executive in Dublin will earn in the €45,000-€65,000 per annum range while those working in other Irish cities will see annual earnings of €35,000-€45,000. If you rise through the ranks and become the head of CRM, a yearly salary of up to €130,000 awaits you in Dublin; this falls into the €70,000-€110,000 range elsewhere in the country.
What Are The Good Points?
It is the perfect job if you like working with people and enjoys an ever-changing work environment. The CRM Executive role is genuinely interesting as you get to learn more about how people act and behave. The data you receive provides you with an insight into customer behaviour, and you can use these details to create a tangible marketing plan. The salary is excellent too as your skills are in hot demand.
What Are The Bad Points?
As a CRM Executive, you face challenges at every turn and the pressure is usually on. You have to manage a team of employees and sift through an enormous amount of data to come up with something a client can use. If the information you provide isn't up to scratch, and the subsequent marketing campaign is a failure, the buck stops with you.
Is a Career as a Customer Relationship Management Executive Right For Me?
To become a successful CRM Executive, you need to possess the following:
The ability to meet tight deadlines and outstanding time management skills.
Teamworking and leadership skills; you'll be in charge of a team which means you need to guide employees in the right direction, create new strategies and stay on top of the administration side of things.
Excellent communication skills as you must speak with clients, employees, and customers.
Commercial awareness. A CRM Executive must know his/her target market well and have the ability to create campaigns that grab the attention of customers and solves their problems.
Top quality analytical skills. A big part of your job involves gathering and analysing data to help you understand your customer base and coming up with suggestions for improving the existing strategy.
If you liked the information provided in this Customer Relationship Management Executive Job Description from typical duties to the good points and career path, then a career as a CRM executive might be the right path for you.