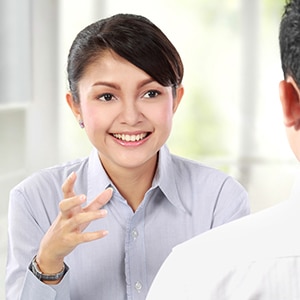 There are some interview questions you can pretty much guarantee you'll be asked.
However, even though you are expecting them, they can still trip you up.
Here are 3 of the most common interview questions and some tips on the best way to answer them.
Tell me a little about yourself and why you applied for this job?
This question is more about watching your response, how you present yourself and your communication skills. It's your opportunity, and it can be your only opportunity, to say what you want. After this, it's questions and answers.
Respond with a smile and get straight into your presentation.  Don't ask 'will I start with my last job or would you prefer…." Answer with no delay.
Begin with your qualifications and depending on the number of jobs you have had, say three, give 20 seconds to the first, 40/50 seconds to the next and 1.5 minutes to the current or last role. In each case just touch on the key points of each position you held.
It's important to take this opportunity to run through your career because it helps the interviewers to remember you later on when they are considering all the people they have seen that day.
Most importantly it is also for the benefit of the interview panel members who never even looked at your CV before the interview. Do not assume they have all read your CV through carefully. They may not.
Finish by relating some skills and experience you have had that relates directly to the job specification. Add that's why you believe you would be a good candidate for the job. Don't be afraid to say it!
What skills would you bring with you if you joined this company?
If you can't answer this instantly and with a smile then the job is not for you.
As part of your interview preparation, I suggest you print and place the job specification and your CV side by side. Where you see statements, words, attributes or aspiration required for the job underline them. Then where they also appear on your CV mark them clearly.
These are the skills that you can bring with you for the job on offer. So, read them through, remember them and use them to answer this question.
What is your salary expectation?
Before going to an interview check the salary guides on IrishJobs.ie. They are pretty comprehensive, so you should be able to find your job or one very close to it. This will give you an indication of the current rate of pay for the role.
When you are asked the question, it can be a good idea to answer the question with a question of your own. Ask the interviewer about the whole package on offer. OK, you know there is a salary but is there a pension, health insurance, a bonus, commission, car, expenses etc.
This sometimes helps to create a discussion. The more benefits on offer, the more it allows you, to adjust your salary target up or down in your mind. It helps you get a measure of what you should ask for when the pay question is asked.