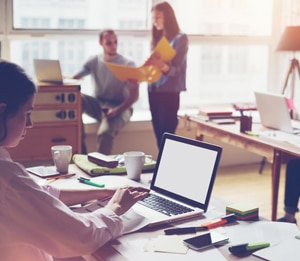 Job Description
As an Advertising Manager, you'll be expected to maximise advertising revenues from media agencies through the use of proactive sales activities. You must understand the needs and objectives of your clients and liaise with them throughout campaigns. You will be in charge of a team and manage administrative and campaign work to ensure each project is completed on time and within budget.
If you have experience in the world of advertising, possess leadership qualities and are capable of multitasking, read on to discover if the role of Advertising Manager is right for you.
View and apply for Advertising jobs | View more Marketing Job Descriptions
What Will I Be Doing?
Your role involves developing advertising campaigns and typical duties include:
Educating clients on the latest products, beta testing and insights.
Meeting clients to discuss their latest advertising requirements.
Leading a team and devising an ad campaign that meets the needs and budget of clients.
Identifying opportunities for growth and new business.
Creating unique and relevant sales presentations that achieve the objectives of clients while increasing their market share.
Working with a Business Development Director to create effective sales strategies.
Generating advertising revenues in online and publishing formats.
Acting as the link between the client and agency.
Is There Anything Else?
Work hours are 9am-6pm, Monday-Friday in many agencies, but as an Advertising Manager, you're expected to start early or late to meet deadlines. As your hours could be irregular, some firms offer time in lieu rather than paid overtime. Most large agencies are international in scope and could be part of an even bigger media and communications group which has its HQ in the United States or the United Kingdom for example.
Although the role of Advertising Manager is office-based, you should expect to travel to attend meetings or liaise with clients during a workday. Occasionally, you could be forced to spend the night away from home, and overseas work is also a possibility.
Advertising Manager Career Path
A career in the field of advertising is open to all graduates, but you'll probably enjoy a quicker rise through the ranks with a Degree in Accounting, English, Marketing, Communications or Business. Although you could gain an entry level role without third level education as long as you have enough relevant work experience, large agencies focus on candidates with a Bachelor's Degree at a minimum.
You won't become an Advertising Manager as a new graduate. It is necessary to gain experience in the field of advertising, so you're likely to work in a position such as Advertising Executive or Advertising Accounts Executive first. Once you have displayed an aptitude for the field and have demonstrated an ability to lead, you could be in line for a promotion.
Gain a professional qualification to boost your chances of reaching managerial level. You can join a reputable organisation such as the Institute of Advertising Practitioners in Ireland (IAPI) or hone your leadership skills by becoming a member of the Irish Management Institute (IMI).
Advertising Manager Salary
Most new managers can expect an annual salary in the €35,000-€45,000 range. Once you have gained enough experience, or if you are working for a large international firm, this salary can increase to €50,000-€60,000 per annum. If you have lofty ambitions, look to become a Director as annual salaries often exceed the €100,000 mark.
What Are The Good Points?
It is a role with a vast array of options. You'll have the opportunity to work in different sectors or with a dedicated marketing agency. If you have enough experience in the field, you can break away and set up your own consultancy. Career advancement opportunities are plentiful, and you could get to work abroad if you choose.
What Are The Bad Points?
It can be a stressful and highly pressurised role. A lot of the time, you'll be working on more than one project, and tight deadlines are part and parcel of the job. As a team leader, you bear the most responsibility, so if an advertising campaign fails; you're the one who has to answer to an irate client. During economic downturns, advertising is one of the first things to get cut from a company's budget, so redundancies are common.
Is a Career as an Advertising Manager Right For Me?
To become a successful Advertising Manager, you need to display the following:
The ability to understand the market and create new ideas to maximise your clients' revenue potential.
Online media sales and publishing experience.
The capacity to work under pressure and meticulous attention to detail.
Outstanding negotiation and presentation skills.
Excellent verbal and written communication skills.
Good interpersonal, motivational and leadership skills as you will be in charge of a team.
Experience in dealing with media agencies and clients at all levels.
The ability to understand the vision of each individual client.
If you liked the job description of Advertising Manager from typical duties to salary and career path, then the job as an advertising manager might be right career for you.