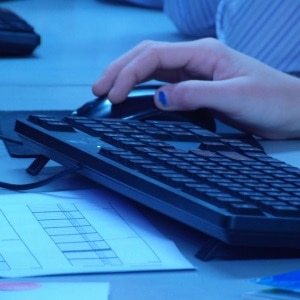 Job Description
Administrators are crucial to effective and efficient day-to-day operations of any company.
Those working in this position will usually be responsible for supporting their organisation in a variety of ways including bookkeeping, communications, scheduling, data entry, secretarial services and much more.
If you have a love of organising and enjoy putting everything in place, you may be the perfect fit for the role of administrator.
View and apply for Administration jobs
What Will I Be Doing?
The role of administrator involves a great deal of multitasking. You will work with teams, oversee the operations within your company, manage groups, coordinate with management and engage in planning according to the needs of your company. If there are office resource or administrative issues, you will be the person expected to deal with them.
Here is a quick list of typical administrator duties:
Management of office equipment
Maintaining a clean and enjoyable working environment
Handling external or internal communication or management systems
Managing clerical or other administrative staff
Organizing, arranging and coordinating meetings
Sorting and distributing incoming and outgoing post
Much of the work involves oral and written communication, word processing and dealing with email and telephone enquiries. Many people fail to acknowledge the importance of a good administrator within an organisation as this individual has a demanding job that is integral to the success of the business.
What Else Do I Need To Know?
Your work will take place in an office and you can expect to work 35+ hours a week. However, there are a number of organisations looking for part-time administrators too and one of the real perks of the job is the ability to maintain a healthy work/life balance.
If you work in a large company, you will probably have a clearly defined role. In smaller companies, you may be expected to act as a jack of all trades. This means being in charge of human resources, training functions and even accounting. This would extend to tasks such as hiring, training & assessing employees, procuring office supplies and developing financial reports & budgets.
What Are The Different Types of Jobs in Administration?
The sheer number of categories and levels in the administrative field may surprise you.
Here are some of the job titles that fall under the administrator job description:
Administrator Salary
As there are many different administration roles on offer, the salary you can expect will vary depending on the career you choose. For example, a human resources administrator is likely to earn €24,000-€28,000 per annum with €25,000 as the standard though this rises to €26,000 for those working in Dublin.
A compensation and benefits administrator may earn €25,000-€27,000 per annum while an administrator in the Broking section of insurance would earn €19,000-€26,000 with €23,000 the average salary. This sum increases markedly if you become an administrator in the Claims department of an insurance company as the range extends from €21,000 to €35,000. In all of these roles, there are plenty of opportunities for promotion with management roles paying up to €70,000 a year – more on administrator salary
What Are The Good Points?
It is practically a dream job for people who like order and planning. The role of administrator involves a lot of structure as there are a number of tasks to work on every day. For most, the act of ticking off each task as it is completed is extremely satisfying. However, the job can also be interesting because you work directly with individuals at different levels including regular staff, managers, executives, suppliers and clients.
As administrators know more about the way the company works than most employees, they are often first in line for promotion and career progression is one of the hallmarks of being an administrator. In this role, you are trusted so if you want to switch to another job within the company, you have an excellent chance. Most people use the role of administrator as a means of becoming a personal secretary, office manager or supervisor.
What Are The Bad Points?
It is a very competitive role so even being accepted at an entry-level position is not easy. Once your foot is in the door, you will be given a lot of responsibility and initially at least, your salary will not reflect the amount of work you do. Additionally, you may feel as if your role is not given due respect as other employees don't appreciate the impact your administration has on the running of the company.
What Education Do I Need?
Applicants will be expected to have a good honours degree to be considered for general administration roles. Subjects such as English, Education, Statistics, Psychology, Business Studies, Sociology and Information Science are preferable at a degree level.
In order to have a chance of being employed in a specialist administration role such as marketing and human resources, you will probably need a relevant degree and professional qualification.
An increasing number of companies are looking for candidates with a postgraduate degree; an MBA in Higher Education Management is an example of a Masters Degree that could see you accepted to higher ranking roles. In some cases, employers may also wish to see evidence of a skill based qualification such as a European Computer Driving License (ECDL).
Is It The Right Job For Me?
If you can't do more than one or two things at a time without being distracted or allowing your concentration to waver, perhaps you should consider another role. However, if you are proficient at multi-tasking and enjoy the challenge of performing disparate tasks at the same time, it is a role you should definitely consider. You also need to have great interpersonal skills as you have to communicate with various staff levels within the organisation ranging from executives to junior office workers.
Here is a list of other skills that will stand you in good stead as an administrator:
Great attention to detail.
An ability to remain calm under extreme pressure.
Excellent organisational skills.
Being a team player.
Willing to show initiative.
A thorough and methodical approach to your work.